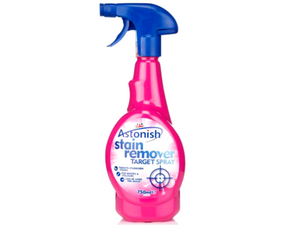 2 in 1 Stain Remover
Regular price
£2.00
Ex.Vat
Sale price
£2.50
Although MessySupplies products are designed to be as stain free as possible, we have introduced a range of professional cleaning products to remove assist with the removal of liquid & mess related stains should they occur.
Astonish Stain Remover Target Spray is a powerful, fast acting and versatile stain remover. Formulated to penetrate deep into fabric to break down and disperse even the toughest stains!
This dual action product can be used both as a laundry pre-wash stain remover or as a spot treatment on carpets, upholstery and even curtains!
Product Safety:
Caution must be exercised on fine silks and delicates
Do not use on garments marked "dry clean only"
Follow the instructions carefully. Always read the label
Keep eyes and face away when using
Keep out of the reach of children
Click Here for Data Sheets & Ingredients.
We're sorry but this item is not eligible for international shipping.
How to Use
Remove excess liquid and treat the stain as soon as possible. Stains treated immediately will be removed more effectively. Check for colour fastness on a small inconspicuous area before use. 
Laundry Pre-wash: Check clothing label before use. Spray onto both sides of the fabric. Leave for 10 minutes. Wash as directed on the clothing label. 
Carpets / Upholstery: Blot the stain with a damp cloth. Spray a small amount onto a damp cloth and wipe over the stain. Rub gently if required. Wipe over with a wet cloth after 30 minutes but do not soak the fabric. Dry using a cloth or towel. Vacuum when dry.
We're sorry but this item is not eligible for international shipping.
---
Share this Product
---
More from this collection