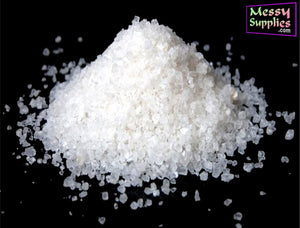 Dissolver for Jeli Mix™ / Instant MUD™ / Instant SLIME™
Regular price
$3.00
Ex.Vat
$0.00
Additional Dissolving Agent for Jeli Mix™, Instant SLIME™ & Instant MUD™
This is a must-have item when it comes to disposing of our Jeli Mix™, Instant MUD™ and Instant SLIME™! (Sold separately)
Sprinkle, stir and dispose!
We aim to provide free Dissolver* with all orders of Jeli, SLIME & MUD. However, if you'd like a bit extra, this is perfect.  
Ingredients: Sodium Chloride (salt).
* Subject to availability
How to use
Sprinkle the Dissolver directly into the Jeli / MUD / SLIME and stir.
Both the MUD & SLIME will immediately begin to dilute, while the Jeli Mix will need a couple of hours and maybe a few mixes to fully disintegrate.
Disposal
Once the Jeli / SLIME / MUD are fully diluted back to coloured water, dispose down suitable sized drains. (Please check with your local authority if disposing of large amounts)
We highly recommend using our Dissolving Agent when disposing of Jeli / SLIME / MUD.
---
Share this Product
---
More from this collection