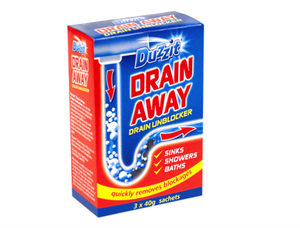 Unblock Drains - Powder
Regular price
£1.99
Ex.Vat
Sale price
£2.99
Although MessySupplies products are designed to be as easy to dispose as possible, we have introduced a range of professional products to assist with any blockages should they occur.
Duzzit Drain Away contains 3x 40g powder sachets which quickly and easily remove stubborn blockages. Ideal for sinks, showers, baths and drains.
Creating a simple, yet powerful economical cleaning foam that helps to remove blockages and encourage healthy sinks and pipes.
Directions for Use:
Wear suitable protective gloves before opening and during use
Ensure the sink is dry with no standing water for one hour before use
Pour the contents of the sachet directly down the plughole at arm's length, away from face and body. Ensure there is no residue left in the sink and the contents has been poured into the plughole only
Pour a cupful of warm water down the plughole directly at arm's length, away from face and body
Allow to stand for 10 minutes for the foam to penetrate through the blockage
Product Safety:
Follow the instructions carefully. Always read the label.
Cannot be used on copper, aluminum or zinc pipes.
Keep out of the reach of children
Keep eyes and face away when using.
Click Here for the Data Sheet.
---
Share this Product
---
More from this collection