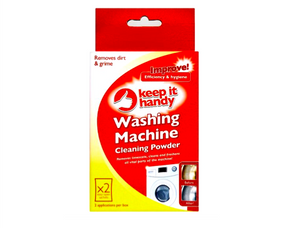 Washing Machine Cleaner
Regular price
$3.00
Ex.Vat
Sale price
$4.00
Although MessySupplies products are designed to be as stain free as possible, we have introduced a range of professional cleaning products to remove gunge and mess related stains should they occur.
Never fear washing your messy items in your home washing machine or expensive studio facilities! Our 2pk Washing Machine Cleaner is easy to use and will cure any unwanted build-up in the pipes and ensure remaining residue is effortlessly removed!
Instructions:
Empty one sachet directly into the drum of the washing machine. Run the washing machine on a regular 40C wash without spin dry cycle, as per your washing machine manufacturer's instructions.
Important: Always use when the washing machine is empty, do not use this product whilst clothes or other items are in the machine drum. To maintain efficiency, use on a monthly basis. In some circumstances after first use, the cleaning cycle may need to be repeated. Always leave at least one week between uses.
Product Safety:
Follow the instructions carefully. Always read the label.
Keep eyes and face away when using.
Keep out of the reach of children.
---
Share this Product
---
More from this collection